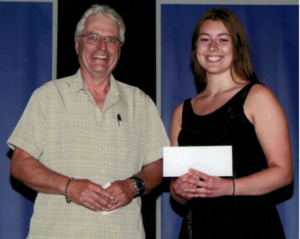 Congratulations to Sydney Carlson, the recipient of the 2017 Local 191 (LSSD bus drivers) Bursary Scholarship award.
Sydney (pictured at right with Art Crane, LSSD bus driver and Local 191 board member) is a student at the Lord Selkirk Regional Comprehensive Secondary School in Selkirk. The scholarship is a $200 award.
The annual award was started in 1978 by the former LSSD school bus drivers association (now members of Local 191) and is given to a bus student involved in the arts or extra curricular activities, graduating with a high average and planning to continue with post-secondary education.