Unifor national President Jerry Dias sets the record straight in a name-calling dispute with Amalgamated Transit Union president Larry Hanley.
In a related matter, download the transcript of an Ontario Superior Court judge's ruling, which provides a glimpse to the infighting with the ATU.
March 5, 2017 TO: All Unifor Locals, Community Chapters and NEB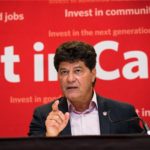 Dear Brothers and Sisters,
I am writing to state the position of our union and to correct the false and derogatory accusations put forward by ATU Canadian President Paul Thorp and ATU President Larry Hanley.
Hanley's comments on social media are outright slanderous, derogatory and sexist. To mention a few: "Jerry is hiding behind some skirt", "tell Jerry to get out from under your skirt and admit he is a bigot", "Dias exercises bigotry and isolationism trying to steal members from your union, what a fake", "these guys are bigoted corporate sell outs", "Trump and Dias build walls to appeal to bigots".
What's clear is the ATU is attacking me personally to distract from their actions and from their goal to maintain a system of their own undemocratic power.
I will deal with Hanley's comments in court.
Both Hanley's and Thorp's comments on social media and in the public have also centred around the allegation of our union raiding. This could be nothing further from the truth.
Unifor did not release or sign one card. Instead, on behalf of our union, I offered our support to the President of ATU Local 113 to support the CLC justification process. Unifor has stood for and will continue to stand for the right of Canadian ATU members to elect their own representatives. Unifor has also called on the ATU to respect the election of Local 113's President Bob Kinnear.
The fact that Thorp would acknowledge that it is acceptable for US delegates at an international convention to determine the Canadian representative on the ATU executive board and not adhere to the wishes or choices of the Canadian delegates is unacceptable.
He is after all the Canadian President, supporting the rights of American delegates to overturn the rightful choice of a Canadian contingency. In Thorp's letter he quotes Article 4.8 of the CLC Constitution that Unifor somehow was to contact the ranking officer of the ATU of Kinnear's intentions. What he leaves out is that the CLC Constitution under Article 26 states: "members of affiliates exercise their rights as citizens of a sovereign nation and govern the affairs of the union within this right". Article 26.1 states: "Canadians elect Canadian officers". Article 26.3 states: "Canadian elected representatives have authority to speak for the union in Canada."
Bob Kinnear was the Canadian elected delegate not the US handpicked one.
What is this all about? It's not about a raid it's about democracy and autonomy. Kinnear, as a six-time democratically elected president, went to the CLC to begin the debate about potentially leaving the ATU. He wanted his members to decide. He is not a rogue president as the ATU would like you to believe. He did not act alone. As members of the ATU, you know he did not.
Unifor got involved to prevent the trusteeship of the local. We've been down this road many times. Unifor is a family of 55 merged unions including former ATU workplaces which were put in trusteeship and lost everything, including their own union halls, paid for by Canadian transit workers. Many other Unifor members walked down that same road as well. They had bank accounts, and union halls seized as if they didn't belong to the workers who paid for them over so many years.
Unifor supports the CLC justification process and will quarrel with any affiliate that doesn't respect it. The allegation that I am somehow spending Unifor money on a private Canadian crusade is nonsense. Unifor has taken this action after a unanimous decision of our democratically-elected National Executive Board.
Unifor stands opposed to any local union being placed into trusteeship for using the CLC justification process. We stand opposed to democratically elected leaders being fired for seeking recourse through the CLC justification process.
Unifor will never agree that any union has the right to seize the assets of any local union that applies for justification under the CLC, nor will we respect a constitution that gives ten members more rights than 10,000 if they so choose to disaffiliate and join another union as the ATU constitution does.
Since much of this discussion is about credibility. We think it is important that we talk about our important victory for all working people. On the ATU trusteeship Superior Court Judge Penny threw out the trusteeship, clear facts that Thorp and Hanley cannot deny.
• It is clear that the purpose of the trusteeship is to quell dissent;
• Removal from office manifestly deprives the membership of their duly elected leader;
• I find the international has used the trusteeship to silence opposition and to spread misinformation to the members;
• Irreparable harm also results from the fact that, by removing Mr. Kinnear from office as President, the trusteeship has prevented the plaintiff from effective communication with the members who elected him. International now controls all communication with the members and has the absolute power to DISPOSE OF OR SILENCE DISSENTERS;
• Kinnear is the democratically elected President of Local 113. Local 113 and its members are faced with immediate and crucial determination of their representation rights through the CLC justification process.
The ATU is attacking me personally to maintain a system where workers are chattels. The court decision changes all of that.
To be clear, Unifor is not attacking all international unions and we have complete respect for many of them and the job they do representing Canadian workers. We don't believe for a second that the UAW, USW, UFCW, SEIU, IBEW, or Teamsters to name a few, would ever disrespect the Canadian delegates choice at convention for who their Canadian representative would be.
Unifor was created with a mandate for change and to challenge the status quo. We will continue to defend the rights of all workers. We will stand up for democracy and fairness and in respect for the CLC Constitution governing Canadian unions and workers.
In Solidarity,
Jerry Dias
National President