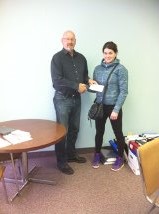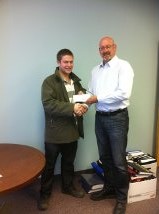 Local 191 annually offers post-secondary scholarships, valued at $1,250 each, to children of active members.
The essay question for this year was, How Have Unions Affected Professional Sport.
Winners:
Local 191 Staff Rep John Webster presents cheques to: L-R, Marlee Webster, daughter of Winnipeg Free Press member James Webster; and, Oliver Beach-Yeo, son of Winnipeg Free Press member Janet Beach.
The third recipient was Brandon Biancospino, of Thunder Bay.